ORIGINAL.UZ
IN MARKETS SINCE 1999
Protection against counterfeiting
To strengthen the protection against counterfeiting in the local market, our products are marked with a special sticker of our partner - the TOZA.UZ system.The sticker contains a unique, one-time PIN code.It has a special protective layer, which can be checked by erasing the PIN code:
• By free SMS to short number 7900
• On the website WWW.TOZA.UZ
• On Telegram bot


@Tozauzbot.
When you send the PIN code for the first time, the system returns a message that the product is registered in the system, i.e. has the original.If the number of checks has been performed more than three times, then the PIN code is blocked, and the system displays a message that such a code does not exist.This means that most likely it is a counterfeit product(fake).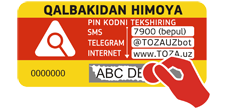 Erase the protective layer on the sticker

Send pin code as sms to short number 7900 (free) or check in toza.uz web site or check via telegrab bot TOZAUZbot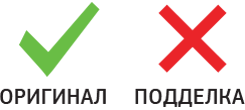 Wait for the system response